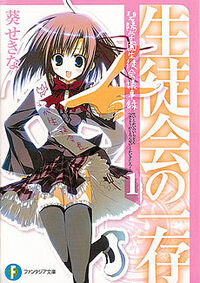 Seitokai no Ichizon
(生徒会の一存), in it's original form, is a collection of Japanese light novels by
Aoi Sekina
, with illustrations by
Kira Inugami
. The first volume was published on January 19, 2008 by
Fujimi Shobo
under their Fujimi Fantasia Bunko label. The series full title is "Hekiyou Gakuen Seitokai Gijiroku" (碧陽学園生徒会議事録, lit. Hekiyou Academy Student Council Minutes), but it was more commonly known by the name of the first book
Seitokai no Ichizon.
A unique element of the light novel version of the story is a metafiction component where, under the student council president Kurimu's orders, Ken has to write stories to show the other students how brilliant the student council is. Ken negotiates with Fujimi Shobo to publish these stories. In that regard, the author himself likens the series to that of a yonkoma novel which portrays the characters having comical conversations and parodying otaku culture.
Hekiyou Gakuen Seitokai Gijiroku
Edit
Hekiyō Gakuen Seitokai Mokushiroku
Edit
Aoi Sekina also wrote a spin-off series, which includes the following volumes:
Shin Seitokai no Ichizon
Edit
A two part series showing the new 33rd Student Council.The story focuses on Ken trying to get the other members to join the student council.
The author had admitted that the title of the novel are mostly random while he sometime tries to give it meaning.